It's Summer … do you know what your child is reading? Summer is underway and so begin the summer reading programs at local libraries and schools. Check out the Juvenile Exhibit Cases on the 3rd floor of the library for recently added children's and young adult titles.
If you need ideas for books your child can read, try looking up material in two children's literature databases Alkek Library has access to:
Many schools are on the Accelerated Reader (AR) program; the AR Website can also be useful to look for books by reading and interest level as well as the Scholastic Book Wizard, which also allows searching by various reading metrics including: AR, Guided Reading, DRA and Lexile Measure.  Recently we have begun adding in Renaissance Accelerated Reader Book Levels for books available in the Juvenile Collection.  The reading levels are hyperlinked so that if you find a book with a reading level of 3.1 (Third grade, month one), you can click to find more books with that same reading level.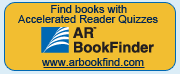 For the child with an eReader or tablet device, Juvenile eBooks are also available.
Reading just four books over the summer can prevent what is called the "summer slide," where students lose educational ground because they may not be as stimulated as they are during the school year. Students can lose up to 25% of their reading level over the summer … so keep them reading all summer long!